Mercedes-Benz O305 MkIV



Body

PMC 'Mark 4'

Seating capacity

43

Standing capacity

27

Fuel type

Diesel

Wheelchair access

No

Air conditioning

No

Buses currently in service

0

Depot locations

Leichhardt, Ryde, Waverley

Length

10730 millimetres

Maximum power

147 kW

Too many parameters
Introduction and Service
[
]
The Mercedes-Benz O305 was the oldest bus model in service at Sydney Buses, until their final withdrawals that took place in 2012. It first entered service in 1983. Originally there were 353 of these buses in service but all of them have been scrapped/sold to private bus operators and replaced by newer buses.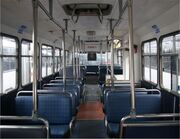 The body is made by Pressed Metal Corporation (PMC) and has galvastress construction with sliding windows. It does not include wheelchair access or air conditioning.
Specifications
[
]
The O305 is 10730 millimetres long, 2500 mm wide and 3050 mm high. It has a 5330 mm wheelbase and has a total passenger capacity of 70 people (43 seated and 27 standing.) It is powered by an OM407 h 6-cylinder diesel engine that produces a maximum of 147 kW at 2200 rpm and 716 Nm of torque at 1400 rpm and has Bosch injectors and fuel pump. Its maximum engine speed is 2200 rpm and the engine is located on the rear underfloor of the bus. The O305 features a spring handbrake, has fluorescent interior lighting and mechanical destination display. It includes air bellows suspension, but does not feature kneeling suspension or suspension lift.
For a detailed specification sheet (PDF format), click here.
Paint and refurbishments
[
]
O305 MkIV buses have been painted in the Corporate v1 (blue and white with thin red line) livery and Corporate v2 (blue and white) livery.
Many of the buses have received refurbishments which have included reflooring, interior and exterior repainting.