Mercedes-Benz O405 MkV



Body

PMC 'Mark 5'

Seating capacity

43/47/49

Standing capacity

N/A

Fuel type

Diesel

Wheelchair access

No

Air conditioning

No
Introduction
Edit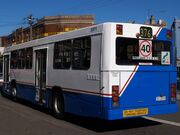 The Mercedes-Benz O405 MkV is a 11.1 metre long bus that is used in the Sydney Buses fleet. It has a body built by PMC (Pressed Metal Corporation.) The O405 does not have wheelchair access or air conditioning, but has sliding windows.
The first O405, fleet number 3071, entered service in December 1987. The remainder entered service from 1988 to 1990. 247 of them (fleet numbers 3071, 3083-3252 and 3305-3380) were built. All buses were retired in early 2016, with buses at Brookvale depot being retired last. At the end of their life, most of these buses were only very lightly used, mainly for school runs and driver training.
Specifications
Edit
The majority of the O405 buses are powered by diesel, with the exception of fleet numbers 3251 and 3252. These two buses were Sydney Buses' first to be powered by Compressed Natural Gas (CNG) and entered service in July 1989, however these two buses have been withdrawn due to mechanical issues.  Seating capacity of the buses is 43, except for buses 3134, 3143 and 3237 (seating capacity 47) and 3083, 3112 and 3113 (seating capacity 49.)
The O405 has been painted in the Corporate v1 (blue and white with thin red line) livery and the Corporate v2 (blue and white) livery.