Mercedes-Benz O500LE (CNG)



Body

Custom Coaches 'CB60 Evo II'

Seating capacity

44

Standing capacity

25

Length

12.5 metres

Maximum Power

185 kW

Maximum Torque

1050 Nm

Engine

M 447 hLAG inline 11.967 litre 6-cylinder

Fuel type

CNG (Compressed Natural Gas)

Wheelchair access/Air conditioning

Yes/Yes

Buses currently in service/Depot locations

253/Leichhardt, Waverley, Ryde, Port Botany
Introduction
Edit
The Mercedes-Benz O500LE CNG (also known as the OC500LE) is a CNG-powered, air-conditioned and wheelchair accessible bus model used in the Sydney Buses fleet.
[1]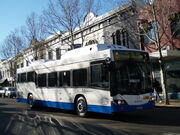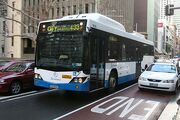 254 of these buses (fleet numbers 1800-1811, 1812-1869, 1890-1909, 1930-1949, 1970-1989, 1992-1995, 1998, 2007-2009, 2013-2015, 2017, 2020, 2027, 2031-2034, 2041, 2042, 2050, 2051-2058, 2101-2105, 2123-2127, 2141-2145, 2152, 2153, 2171,-2178, 2185, 2186-2190, 2198, 2199, 2200, 2214-2217, 2234, 2246-2248, 2256, 2272, 2273, 2283, 2284, 2290-2294, 2310-2315, 2323-2325, 4868-4873, 4875-4877, 4879-4902) are in service at Leichhardt, Waverley, Ryde and Port Botany depots. They were delivered in 2008-2011. As of July 1st, 2018, all of the Leichhardt-based members of the fleet are operated by Transit Systems West.
Some
Ryde
buses also feature limited cached free wifi and TV streaming news.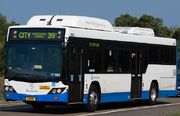 Specifications
Edit
The O500LE CNG is 12.5 metres long and can seat 44. It is powered by CNG and produces 185 kW and 1050 Nm. There are two gas tanks (indicated by two CNG stickers on number plate) located on top of the bus near the front. Metal pipes run on the offside roof to the back of the bus. Because the gas tanks are in the front, the air conditioning unit is placed at the rear of the roof. The gas tank placement is counter-intuitive, but this is due to the various weight requirements imposed by the RMS. Unlike on other buses, there is no way to refuel the bus on the side. The fuel cap is actually a small hole near the front of the gas tank casing.
Bus Explosion
Edit
Bus number 4878 was destroyed when it exploded on 18 July 2011. This led the Rail, Tram and Bus union to remove all CNG-powered buses from the road on 18 October 2011. This ban was lifted the next day. The fire was caused by coolant from a broken hose leaking onto the hot engine and causing a fire. This fire then caused the CNG coming into the engine to overpressurise. As a safety mechanism, the CNG was automatically vented out, causing a fireball to come out of the side of it. Due to the extensive damage, 4878 was scrapped.
The investigation report made by OTSI (Office of Transport Safety Investigation) is located
here
.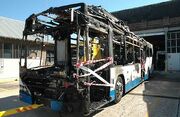 These buses are painted in the Corporate v2 (blue and white), Metrobus and Transport NSW (light blue with white arrow) liveries.
References
Edit