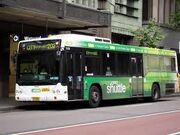 Introduction
Edit
The 202 is one of the bus routes operated by Sydney Buses in the North Shore region.
Route Description
Edit
The 202 route operates between Northbridge and North Sydney during peak hours or the City (Wynyard) via North Sydney Station, Miller St and the Sydney Harbour Bridge during off-peak hours.
Timetable and Map
Edit
To download the map for this route, click here. (PDF file, 360 KB)
To download the timetable, click there. (PDF file, 255 KB) and
To save the file to your computer, press Ctrl+S when the file opens.