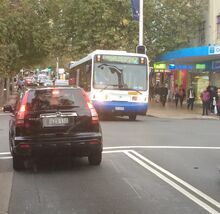 267 is a route operated by the State Transit Authourity on the North Shore. It runs from Chatswood Interchange to Crows Nest Burlington Street. Buses operate half-hourly during peak hour and hourly during off-peak. On Saturday it runs every hour and there are a few services on Sunday.
The 267 is serviced by almost all rigid buses from Willoughby Depot in. The only bus from Willoughby not seen on this route is the Scania L113TRBL as it is too long for the roundabouts and the tighter turns. Only Willoughby buses are seen on the 267.
The service runs on Monday to Sunday. It is an hourly service on Saturday to Sunday. The last two services of weekdays terminate at Edinburgh Road near Fourth Avenue. Most services are wheelchair accessible. Some stops lack signage.
Route 267
Name of stop
Suburb
Connections
Chatswood Interchange
Chatswood
136, L60, 257, 343, M40, 545,550,565,558, Parramatta Routes, 275, 137, T1 train line
Chatswood The Concourse
Chatswood
136, L60, 257, 343, 275,137
Chatswood Chase (Towards Crows Nest only)
Chatswood
Archer Street Near Albert Avenue (Towards Chatswood only)
Chatswood
Archer Street Near Johnson Street /Johnson Street Near Bertram Street
Chatswood
Johnson Street Near Neridah Street
Chatswood
Johnson Street Near Hercules Street
Chatswood
Fry Street Near Stanley Street
Chatswood
Sydney Street Near Matheson Avenue/ Sydney Street Near Stephan Street
Chatswood
Mowbray Road Near Sydney Street
Chatswood
Mowbray Road Near Kalgoorlie Street/ Mowbray Road Near Wallace Street
Chatswood
Mowbray Road Near Penshurst Street
Chatswood
343, 257, 272 Nearby
Mowbray Road Near Willougby Road (Towards Crows Nest only)
Willoughby
Mowbray Road Near Chiltern Road
Willoughby
Mowbray Road Near High Street/Mowbray Road Near Marlborough Road
Willoughby
Edinburgh Road near Alpha Road /Edinburgh Road Near First Avenue
East Willoughby
Forest Buses do not stop here.
Edinburgh Road near Third Avenue/Edinburgh Road near Windsor Road
East Willoughby
Edinburgh Road near Fourth Avenue (Towards Crows Nest only)
East Wiloughby
Edinburgh Road near Eastern Valley Way
Willoughby
Eastern Valley Way near Morotai Crescent/ Eastern Valley Way near Warners Avenue
Willoughby
207, 203, 209, 206, 208, 205
Eastern Valley Way near Tenilba Road
Northbridge
Eastern Valley Way near/after Sailors Bay Road
Northbridge
Strathallen Avenue near Sailors Bay Road
Northbridge
207, 203, 209, 206, 208, 205, 260 operated by Forest, 204
Strathallen Avenue near Baroona Road
Northbridge
207, 203, 209, 206, 208, 205, 204, 202
Strathallen Avenue near Marana Road
Northbridge
Miller Street near The Boulevard
Cammeray
Miller Street near Pine Street /Miller Street near Vale street
Cammeray
Miller Street near Ernest Street/ Miller Street near Abbott Street
Cammeray
Miller Street near Cammeray Shops

→To Crows Nest only

Cammeray
207, 203, 209, 206, 208, 205, 260 operated by Forest, 204, 263, 202
Amherst Street near West Street

→To Chatswood only

Cammeray
263
West Street near Huntington Street

→To Chatswood only

Crows Nest
Miller Street near Ernest Street

→To Crows Nest only

Crows Nest
207, 203, 209, 263, 202
Ernest Street near Miller Street

→To Crows Nest only

Crows Nest
263
Willoughby Road near Ernest Street

→To Crows Nest only

Crows Nest
263 towards Crows Nest, 343
Burlington Street Stand 4
Crows Nest
343, 263, 265 towards Lane Cove
Terminus