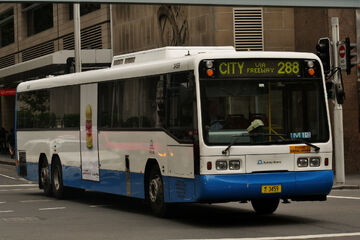 Route 288 is bus route which runs between Epping Station to Sydney City (Queen Victoria Building) via Macquarie University, Macquarie Centre, North Ryde, Lane Cove and the Gore Hill and Warringah Freeways.
Its cousin, the 290 runs along Epping Road rather than Kent / Coxs Roads between Herring and Pittwater Roads, and locally along the Pacific Highway between Artarmon and North Sydney rather than via the Freeways.
Route 288 usually runs at half-hourly intervals between Epping and the City and every fifteen minutes between Macquarie Centre and the City. Some Route 288 trips short turn at Macquarie Centre during the day.