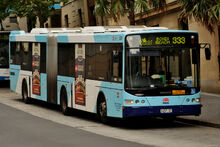 Route 333 is a PrePay, limited-stops service which runs between Circular Quay and North Bondi via Elizabeth Street, Oxford Street and Bondi Road. It was introduced in 2006 as the first prepay, limited-stops bus service in Sydney, and the 333 supplements the 24-hour 380 services which are popular for locals and tourists alike, because it carries passengers from the City to Bondi Beach. Route 333, along with Transdev Ku-Ring-Gai's 594 and 594H service were the first routes trialled in the rollout of the Opal Card electronic ticketing system.
Route 333 was introduced in 2006 to supplement the 24-hour service offered by the existing Route 380. Passengers are required to purchase MyBus tickets before boarding, or recently, use their Opal Cards for payment, to access the 333 service which therefore reduces loading times and speeds up the efficiency of the service.
Route 333 runs regularly from the early hours of the morning to the late hours of the night, with frequencies varying from a service every twenty minutes to a service every ten minutes during the day. Route 333 supplements Route 380's 24-hour service, but the 333 runs limited-stops along Oxford Street to reduce travel times whereas the 380 makes all stops along Oxford Street.
From the 23rd of September, route 333 will become a high-frequency service, with services every 3 minutes during the peaks and every 6-10 minutes at other times. Bus 2226 has been given a new livery for this change. This change is due to other changes on route 380 (all stops to Watsons Bay). Also due to 380 changes, to make it easier to understand, overnight services which run all stops to North Bondi will be renumbered 333N.
This is one of the few non-Metrobus routes where TfNSW livery bendy buses are used, due to the high patronage. The route is operated mostly from Waverley depot, but Randwick and Pt Botany depots can also supply buses as required.
Opal Card rollout trial
Edit
On 6 December 2013, Route 333 was selected as the second route in the customer rollout trial of the new Opal Card electronic ticketing system. The reason why they selected route 333 is because it is one of Sydney's most heavily used bus routes.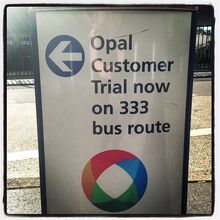 Route Map
Edit