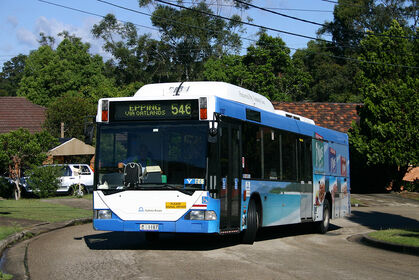 Route 546 is a route that runs between Epping and Parramatta via Carlingford, North Rocks and Oatlands. Its cousin, the 549, mainly runs directly along North Rocks Road, while the 546 itself deviates to Carlingford Court, Carlingford Station, Balaka Dr and Bettington Road to service Oatlands customers.
There are two versions of 546 within the last 15 years under its operation with Sydney Buses.
Parramatta-Oatlands (1999-2007)
Edit
The first version of 546 was inherited from North & Western Bus Lines when the latter was purchased by Sydney Buses. No major changes or alterations have been made in its time in Sydney Buses until 2007.
Epping-Parramatta via Oatlands (2007-now)
Edit
The second version is a merger of the old 546 and parts of Harris Park Transport routes 623, 628 and 629.
When Harris Park Transport ceased operations, their northern Sydney operations were passed to Hillsbus on December 2004.[1] After Hillsbus parent company Westbus experienced financial problems, the former Harris Park operations passed to Sydney Buses on 28 January 2005.[2] After Westbus (including Hillsbus) was acquired by ComfortDelGro Cabcharge, negotiations were reached to transfer some of the former Harris Park routes back to Hillsbus. 623, 628 and 629 were some of those that remained with Sydney Buses (the other one is 624, now M54).[3]
On 4 November 2007, reorganisation of the former Harris Park Transport routes by Sydney Buses has caused renumbering and alteration of the routes. As such, the old 546, diversions of 623 via Oatlands, parts of 628 and 629 merged together to form the new 546 (Parramatta-Epping). 552 was also introduced as a trial as a shuttle service between Parramatta and Oatlands (like the old 546).[4][5]
References
Edit