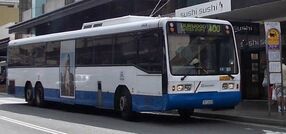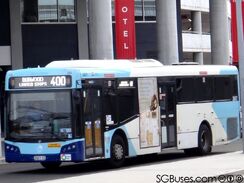 Route 400 is a limited stops bus route from Burwood Westfield to Bondi Junction Interchange. Frequent services only run betweeen Bondi Junction and Eastgardens. It runs through 2 regions, the Inner West region (region 6) and the Eastern Suburbs (region 9) and passes through many landmarks like the Airport. A wide variety of buses, from B, K and W primarily are used on this route. However, due to the routing at Westfield Eastgardens that takes the bus around a circuit of the shopping centre, bendy (articulated) are not allowed to run this route. This is because there is a tall speed bump that can damage the turntable of articulated buses and also inadequate layover space. Instead of bendy buses, due to the high patronage, some 14.5m buses (Scania L113TRB) are used. Double deck buses are also unsuitable due to a low bridge at Subway Road, Banksia, and due to the high passenger turnover.
Route 410 was a Prepay Only limited stops route that operated along some sections of the 400 route. It ran only on weekdays, from approximately 7am to 9am, then from 3-6pm, between Rockdale Station and Bondi Junction. Unlike route 400, it didn't divert into International or Domestic Airport, instead continuing along Airport Drive. It was discontinued on the 30th September 2018, with its role to Rockdale being replaced by the TSW-operated route 420.
Most buses that run these services are operated from Waverley depot, with buses from Randwick and Port Botany also being used on occasion. Prior to the introduction of route 420, some 400 services also ran buses from Kingsgrove depot.
Areas Served
Edit
Burwood
Burwood Heights
Enfield
Croydon Park
Campsie [can terminate here in special circumstances (e.g. late running, driver time restriction)]
Clemton Park [Driver Relief Point, Staff car from Kingsgrove Depot (not bus due to limited space)]
Bexley North
Bexley
Rockdale (410 route start)
Banksia
Arncliffe
Sydney Airport (International & Domestic) (410 does not stop except at QANTAS Jet Base)
Mascot
Pagewood/Eastgardens [short working destination]
Maroubra
UNSW (Randwick)
Waverley
Bondi Junction
30th September Changes
Edit
From the 30th of September 2018, route 400 was split into two routes following the privatisation of Region 6 (Inner West) by Transit Systems West in July. The new route 400 will continue to be run by Sydney Buses (mostly W depot) from Bondi Junction to International Airport. It was proposed to continue to Rockdale, however there was a last minute change to International Airport.
Route 420 will be operated by Transit Systems West (new operator of region 6) from Eastgardens to Burwood via Sydney Airport, Rockdale and Campsie.
Both services will gain new night services. Night services on route 420 will run as 420N, with the only difference being that they will not enter Domestic Airport. (Sydney Airport has a curfew at night, and there will be little to none passengers at Domestic)
Route 410 will be discontinued.