Introduction
Edit
The Scania L113CRB is an air-conditioned bus with kneeling suspension for easier access, individual cloth seating and electronic destination dispays. The body is an Ansair Orana, built by Ansair.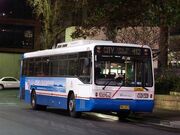 One hundred L113CRB buses (fleet numbers 3461-3510, 3512-3520 and 3621-3661) entered service in 1994-1995. They were all located at Kingsgrove depot however they have all been separated and transferred to Ryde, Waverley and Leichhardt depots. This was due to the CNG equipment at Kingsgrove needing replacement, which no one was willing to pay for, so it was removed.
Specifications
Edit
The L113CRB bus is 12.2 metres long and powered by CNG (Compressed Natural Gas). Unlike the newer CNG buses, these buses only have one CNG tank and it is located underneath the bus. Buses 3508 and 3268-3661 have a seating capacity of 47, while the remainder (3461-3507, 3509, 3510, 3512-3520 and 3621-3627) have 49 seats.
These buses have a 11.02 litre Scania 05C11G.01 Euro 2 engine[1] with s ZF5-HP500 with a speed limiter at 80 km/h. It has about 246 mechanical hp.
Paint and Refurbishments
Edit
The L113CRB buses were painted in the Corporate v1 (blue and white with thin red line) and Corporate v2 (blue and white) livery. Many of the buses have received refurbishments. The refurbishments have included repainting, new flooring and handrails, improved destination displays and seating. A few of these refurbished buses also had the original seats replaced with the seats found on newer Custom Coaches buses.
References
Edit