Scania L113CRB Ansair



Body

Ansair 'Commuter'

Seating capacity

53

Standing capacity

No information

Fuel type

CNG

Wheelchair access

No

Air conditioning

No

Length

12.2 metres

Number in service

2

Fleet numbers

3409, 3410

Depot locations

Withdrawn
Introduction
Edit
The Scania L113CRB Ansair is a prototype bus with a body made by Ansair Tullamarine. There are only two made (fleet numbers 3409 and 3410) are withdrawn and they entered service in 1992 at Kingsgrove. They were scrapped for parts at Leichhardt depot in 2014, with the remains going to Seller & Parker. The buses are not wheelchair accessible or air conditioned and have fixed windows.
Specifications
Edit
The L113CRB Ansair has a seating capacity of 53 and is powered by Compressed Natural Gas (CNG). They were trialled with different seating arrangements and interior paint colours to prepare for 100 more Scania buses which would enter service between 1994 and 1995, all of which were delivered with the Ansair Orana body.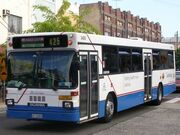 Both of the L113CRB buses were painted in the Corporate v1 (blue and white with thin red line) livery.