Introduction
Edit
The Scania L113CRL is the first wheelchair-accessible low floor bus model in the State Transit fleet. The body is built by Ansair. Unlike previous models, these buses are low floor (have no steps) up to the rear door, allowing easier access for passengers. They also feature hangstraps for standing passengers and 76 of the 156 L113CRL buses have extendable wheelchair ramps. The buses are also air-conditioned.
Wheelchair access
Edit
On the 75 buses with wheelchair access, the bus is only accessible through the rear door. The ramps are automatically extended by the driver, without the need for the driver to get out of his/her seat, unlike newer models. As the bus is accessible by rear door, the fold-up seats are located at different locations compared to newer buses. There are 2 directly opposite the rear door and 3 on the nearside just in front of the rear door.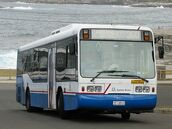 The 156 buses (fleet numbers 3511 and 3692-3846) entered service in 1994 and 1996-1998. They are located at Kingsgrove, Randwick and Willoughby depots.
Bus 3726 was involved in a bus fire on the Sydney Habour Bridge on the 15th of September 2016 and was written off. The accident was caused by a short circuit in the engine bay. The accident report can be found here.
Specifications
Edit
Most of the buses are 12.35 metres long; 3511 is 12.25 metres long. All are powered by diesel. Buses 3693, 3695, 3712, 3737, 3746-3750, 3760, 3761, 3769, 3771, 3773, 3775 and 3786-3846 have a seating capacity of 43, while buses 3511, 3692, 3694, 3696-3711, 3713-3736, 3738-3745, 3751-3759, 3762-3768, 3770, 3772, 3774 and 3776-3785 can seat 45 passengers. Similar to the Volvo B10BLE, all seats have an additional handle on the back for the passenger behind to grab.
This bus uses a 11.02 litre 234 bhp Scania DSC 11-71 Euro 1 engine, on a Scania 3-series chassis. The gearbox is a ZF-4HP500 with a speed limiter set at 80km/h. More specifications can be found here.
These buses were originally fitted with Alcatel/Southport desto controllers and boards, however, these are outdated and are developing dead dots. Most buses have been upgraded to Mobitec destination equipments, using a Mobitec ICU400 controller.
This model of bus is known to encounter problems on hot days, when temperatures exceed 30 degrees. The high air conditioning setting required on these days often causes the engine to overheat, due to a design issue with the engine. As a result, on hot days, the air conditioning has to be turned off, leading to an uncomfortable ride for passengers. In most cases, the engine with still overheat with the AC turned off.
Paint and Refurbishments
Edit
The buses were originally painted in Corporate v1 (blue and white with thin red line) livery. Currently, the buses are been refurbished with improved destination displays, seating and new handrails and flooring and, on some buses, new Transport NSW livery.
Community content is available under
CC-BY-SA
unless otherwise noted.