Introduction
Edit
To increase the number of wheelchair-accessible buses in the fleet, 124 Volvo B10BLE buses were delivered to Sydney Buses in 1997-2000. The B10BLE is a wheelchair-accessible low floor bus which has air conditoning, fabric seating and electronic destination displays. The body is made by APG and PhoenixBus.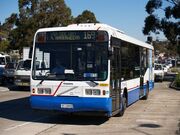 The buses (fleet numbers 3848-3887 and 3889-3971) are located at Burwood, Brookvale and Mona Vale depots and Newcastle. Bus numbers 3888 and 3936 have been written off following a fire in 3936 at Ashfield and an accident at Spit Bridge on 3888.
Specifications
Edit
The B10BLE buses are powered by diesel and have a length of 12.5 metres. They can seat 43 passengers. They have a Volvo DH1DA245 9.6 litre engine generating 245 hp[1]. The transmission is a ZF-5HP500 with a speed limiter at 80 kph. [2]
The buses were painted in the Corporate v1 (blue and white with thin red line) livery but a few are painted in the TfNSW livery.
References
Edit