Volvo B12BLE Custom Coaches



Body

Custom Coaches 'CB60'

Seating capacity

44

Standing capacity

15

Length

12.5 metres

Fuel type

Diesel

Wheelchair access

Yes

Air conditioning

Yes

Buses currently in service

170

Depot locations

Willoughby, Ryde, Port Botany, Newcastle
Introduction
Edit
The Volvo B12BLE Custom Coaches is a wheelchair accessible, air-conditioned bus model used in the Sydney Buses fleet. They have cloth seating and digital destination displays.
105 buses delivered in 2003-2007 (fleet numbers 1500-1556 and 4800-4807, 4809-4817, 4819-4831) are in service at Willoughby, Port Botany, Liverpool-Parramatta Transitway and Ryde depots, with 20 of these used on the Liverpool-Parramatta Transitway. 45 buses (fleet numbers 1406-1435, 1500-1556) are at Newcastle. The 20 being used on the Transitway have now been transferred to TSA after they successfully bid for Region 3.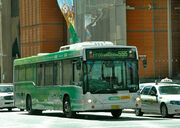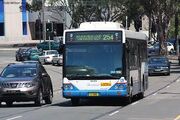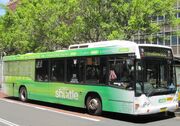 Specifications
Edit
The buses are 12.5 metres long and can seat 44. They are powered by diesel.
The buses are painted in the Corporate v1 (blue and white with thin red line) livery and some in the green and white CBD shuttle livery. Later models were painted in a slightly modified version of the Corporate v1 livery, lacking the red stripe.
Scale Model
Edit
A 1/76 scale model of the B12BLE has been manufactured by Creative Master Northcord. This model is of fleet number 4805 on Route 438 to the City.
Model Gallery
Edit